Our Approach
Stretching back hundreds, and sometimes thousands of years, Indigenous Peoples, including First Nations, Métis and Inuit cultures, have lived in the areas in which DWB operates. DWB recognizes that our work occurs in the treaty lands and traditional territory of many Nations and has the potential to affect these communities; with this acknowledgement comes a responsibility to ensure respect, engagement, participation, and to share benefits.
DWB understands the importance of having and developing, meaningful progressive relationships with Indigenous people, communities, and businesses in whose traditional territory we reside and conduct business. We acknowledge and respect that diversity of Indigenous cultures and values within our areas of operation, in treaty lands and traditional territory lands and, we also acknowledge Indigenous rights and title in these areas. DWB's Indigenous Peoples Inclusion Policy closely aligns with our key corporate values of Integrity, Community and Service and our corporate commitment to community involvement and community giving.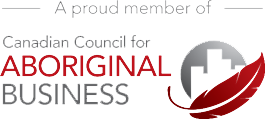 DWB is a proud member of the Canadian Council for Aboriginal Business. The Council supports bridging between Indigenous and non-Indigenous peoples, businesses, and communities through a variety of programming and tools (Aboriginal Procurement Marketplace), Progressive Aboriginal Relations (PAR) Certificate training, as well as a variety of networking, business awards, and national events.
Our Indigenous Partnerships
DWB values our unique relationships with various First Nations, and through these relationships understands that Indigenous inclusion within a respectful team environment leads to positive interaction, effective communication and optimal project outcomes. This positive environment resonates beyond our firm to the way that our personnel interact with our clients, subcontractors, and stakeholders with each project we are involved with. DWB believes this approach broadly contributes to reconciliation where we work. As such, DWB is committed to Indigenous Peoples Inclusion strategies and practices that embrace employment including on-job training & mentoring, career development training; and focused procurement, business development, shared benefits, and community investment with partner communities.
Each of DWB's primary offices has established formal relationships with individual Indigenous Nations in their respective geographic locations through Memorandums of Understanding, Joint Ventures, and Limited Partnership Companies throughout BC, but we have many other long-standing Indigenous business relations and working relationships.
Our Indigenous Coordinator
To ensure Indigenous Peoples Inclusion is considered in our business decisions, DWB retains a full-time Indigenous Coordinator who acts as a liaison between our First Nation partners and our corporate management. It is the role of the Coordinator to implement a well-developed program of training, certifying, mentoring and direct employment, of First Nations to build on basic skill sets and build true capacity through progressive exposure to positions with increasingly greater responsibility.
Jeff Beale, RPF
DWB Consulting Services Ltd.
Office: (250) 785-1570
jbeale@dwbconsulting.ca